Pictures: Golf competition, Conference day 1, Conference day 2
Thank you all making the 10-year anniversary of VNUG Conference to a success!
Last year we were told we had the best HP NonStop user group conference in the world. This put some pressure on us and since this was the 10 year anniversary, we really wanted to make it even better. And now we got the feedback "you surpassed last year". This made VNUG Conference to the best in the……..
Thanks to all participants (members, partners, speakers etc) for making this!
The VNUG Conference was held at Lejondals Castle outside Stockholm. It started with a pre day including education (Quick Intro NS Enterprise Plugins for Eclipse) and Golf Tournament at Bro Hof. 
The Conference itself included two days filled with presentations, discussions, exhibitions and other activities. The fabulous Castle was an excellent place for our Conference and served the most delicious meals. And the extra touch our entertainer gave made the VNUG dinner to a real party.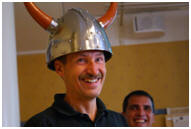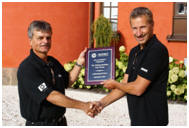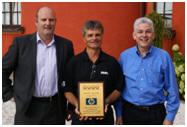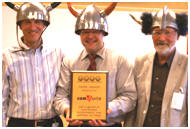 Extra thanks to:
* ComForte and HP for 10 year of continuous active participating and support to VNUG
* CSP for the VNUG helmet version 2.0
* HP and Connect giving VNUG an award of excellence celebrating our 10 year
The planning for next year VNUG Conference has started. As soon we have more info about it we will send it out.
We are looking forward to meet you all again and even get a number of new attendees.
Best regards
VNUG board through Tommy Johansson (Chairman)
Some feedback from participants
"this is a BIG thank you for organizing the VNUG: It was the by far best TUG type event I ever attended. And you can be pretty sure: I'll participate in the year 2012 VNUG as well!"
Carl Weber, Greenhouse
"VNUG has celebrated it's 10 years anniversary and yet again impressed with an extraordinary conference, which was very well organised and well run.
We are delighted to see VNUG growing in size again and enjoyed the fruitful and productive conversations we had during the past days.  We equally enjoyed the social get together wrapped around the conference – really great entertainment."
Thomas Leeb, Computer Security Products
"VNUG was a great event.  Always enjoyable seeing everyone and learning what's new with NonStop and in the community.
In addition to the social activities and networking, the presentations provided many insights on the options available to further improve information services."
Ron Thompson, CAIL
"I personally thank you for another superb event. As well as thoroughly enjoying it, I believe it also provided the all important value for the NonStop End Users, HP and NonStop Vendors."
David Ross, ETINET